Custom-Tomahawk - #T78 - Hand-Forged Primitive Spike Warhawk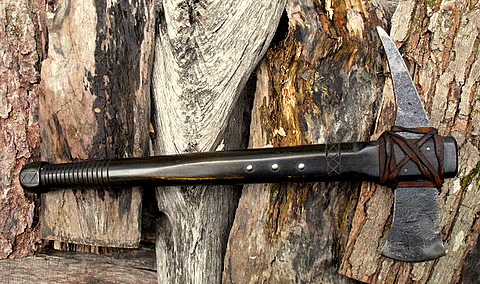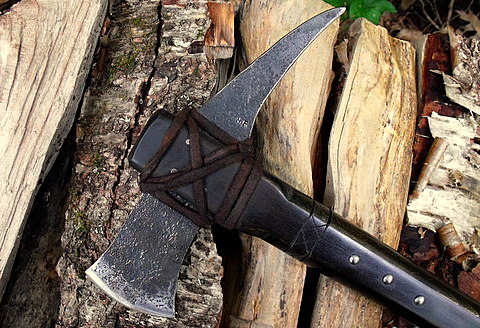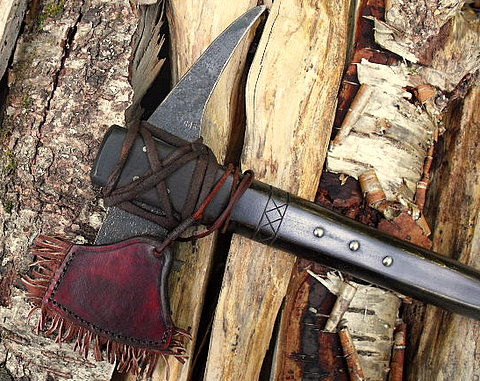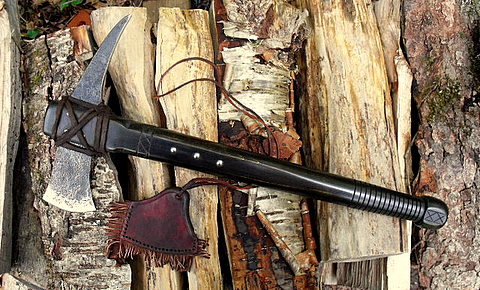 Custom-Tomahawk - Primitive Spike Warhawk.
This is a brand new, original, historically influenced custom-tomahawk that I hand-forged in my blacksmith shop, The North River Forge. I specialize in hand forged reproductions of the 18th and 19th centuries. Each piece is unique.
Steel: : Hand-forged from a leaf spring.
Dimensions: Head overall 9 1/4" - Cutting edge 2 1/2" wide.
Haft: Maple. 18" long overall.
Finish: Aged finish with hammer and forge marks.
Sheath: Veg tan leather.
Features: Sheath decorated with a deer hide fringe. Line carving on haft. Rawhide lashing. Iron tacks.
This hawk is stamped with my makers mark NR and comes with a certificate of authenticity.
Great for re-enactors or collectors who crave tradition. Hand crafted in the traditions of long ago. It is a reminder of an era past. A very nice reproduction spike warhawk that will take and keep a good edge. It has never been carried or used. Functional as well as beautiful. A classic early 18th century design.
Price: $230.00 plus $16 shipping. (USA- Canada) Please contact us for shipping charges and options to other destinations.




Return to North River Custom Knives Home Page.